Adventure NZ
Adventure New Zealand

Whatever your interest in walking / hiking / 'tramping' / cycling and/or adventure exploring throughout New Zealand, New Zealand Travel can arrange your entire trip. Simply email us your plans and we can put them into action.
Enquire here about this Holiday
top
Hollyford Track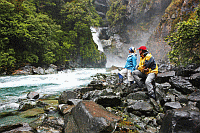 'a beautiful valley … a special journey'. Journey into the dramatic Hollyford Valley and enter a world that has remained largely unchanged for thousands of years. It is New Zealand wilderness at its most primal and inspiring. It is a walk from the heart of New Zealand, the Southern Alps, to its western boundary, the Tasman Sea. An Easy Pace - Small Groups - Expert Guides - Warm, Welcoming Lodges - Fine Cuisine Click here for more info -
Enquire here about this Holiday
top
Cycle the Central Otago Rail Trail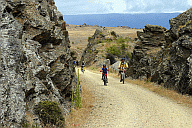 The Central Otago Rail Trail stretches 150 kms between Clyde to Middlemarch. New Zealand Travel partners with 'Off The Rails' to create 3-4 day cycling packages suitable for all ages [experienced tour riders to inexperienced city folk].
Enquire here about this Holiday
top
Abel Tasman National Park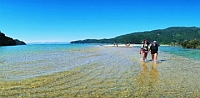 Located in the far north-west of the South Island, Wilsons Abel Tasman National Park operates year round providing the adventure tourist with many opportunities to visit the area. Your trip can be as relaxing or adventurous as you wish. Choose any combination: walk the well-graded, tree-lined coastal track, sea kayak the spectacular granite coast or simply relax on the long, golden-sand beaches with native forest fringing azure waters. Groups are small and suitable for all ages and abilities. There are many activities to choose from, including sea kayaking, long or short walks, or cruising the Abel Tasman.
Enquire here about this Holiday
top
Queen Charlotte Track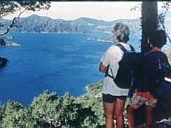 Located on the East Coast tip of the South Island this 71km track stretches between Queen Charlotte and Kenepuru Sound in the Marlborough Sounds. Normally walked in 4 days, the track is an exploration of this magnificent maze of sunken waterways as it wends its way around shorelines, up to ridge lines and through sub-tropical rainforest. Choose between 4 or 5 Day Guided or Freedom Walks. Add a Day of Kayaking to complete this experience.
Enquire here about this Holiday
top
Hump Ridge Track
The Tuatapere Hump Ridge Track is a 3 day loop walk that takes hikers along the south coast of New Zealand, up to the sub-alpine zone of the Hump Ridge, and over historic viaducts in the heart of native forest. The two backcountry lodges are in superb locations, each offering a unique stopping point along the Walk.
The 4 Day / 3 Night Guided Walk offers: one night pre-walk B&B accommodation in Tuatapere; short heli flight across Te Waewae Bay; Heli-transfer for pack (only day pack for walking); private rooms with super king beds; hot showers at each lodge; fully catered three course meals.
Enquire here about this Holiday
top
Tuatara Tours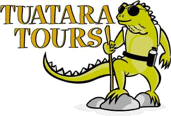 Tuatara Tours operates guided Walking & Cycling adventure tours.
Akaroa 3 Day Walk - enjoy unsurpassed views of the Southern Alps, Canterbury Plains and Banks Peninsula. Stay in comfortable boutique style accommodation and dine on high quality meals.
West Coast Trail - a walking adventure which takes you on a discovery of the alpine pass area through to the Wild West Coast of New Zealand. Four days of unique walks; you experience a diverse range of rugged and dramatic landscapes including tussock lands, alpine bush, West Coast native rainforest and sub-tropical bush.
Tekapo Canal Trail Four leisurely paced days of cycling alongside the picturesque glacial lakes under the watchful eye of Mount Cook.
Hanmer Cycle Trail 4 days cycling through the stunning Waipara Valley wine region of North Canterbury to the alpine village of Hanmer Springs, well known for its' thermal hot pools.
Enquire here about this Holiday
top
Kaikoura Wilderness Walks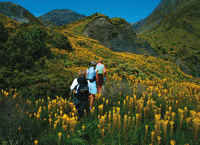 A unique private walking track 50 mins north of Kaikoura on the east coast of New Zealand's South Island.
2-3 day Private Guided Walk through internationally renowned Puki Peaks Nature Reserve, on the highest privately owned land in New Zealand. Stay at Shearwater Lodge (6 rooms only), nestled at the bush edge in a spectacular alpine valley at 1,000m.
Enquire here about this Holiday
top
Tongariro Crossing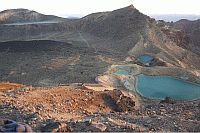 Adrift Outdoor Guided Adventures conduct a series of tours in the Central Plateau Region of the North Island
Enquire here about this Holiday
top
Milford Track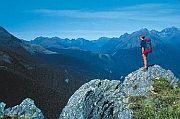 Perhaps the most famous walk in the world, enjoyed by all who participate. The Milford Track Guided Walk operates from November through April, and is extremely popular from Dec-Mar. Early bookings are recommended to avoid disappointment.
Enquire here about this Holiday
top