Golfing NZ
Golfing New Zealand

New Zealand is a GREAT place to golf. From world class courses to beautiful (yet challenging!) country courses, New Zealand can satisfy the cravings of any dedicated golfer as well as the beginner.

Country courses are inexpensive by any standard, and even the resort courses are affordable.

The views from New Zealand courses can easily distract the golfer from their game. Gazing on the snow capped mountains around Queenstown or looking back across the Gulf to Auckland will bring many a golfer back for repeat games.

Organise a group with activities included, and a great holiday will be enjoyed by all.

New Zealand Travel can assist the single golfer to large groups plan their golfing holiday - or just include a round or two in your overall itinerary.
Enquire here about this Holiday
top
Golfing Queenstown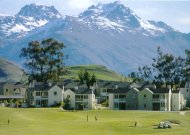 There are many and varied golf courses to enjoy in and around Queenstown and Central Otago area. With direct flights to Queenstown from Australia or connecting flights from other parts of New Zealand, a week's golfing holiday combined with great outdoor activities is easy to organise.

Play the world famous Bob Charles designed Millbrook Resort, located 20 minutes from downtown Queenstown; Kelvin Heights is located right in the heart of Queenstown and has some of the most spectacular scenery any golfer could enjoy; Jack's Point is the newest course in Queenstown and sits alongside Lake Wakatipu; Arrowtown offers a relaxed country atmosphere. Take a trip down to Te Anau and play a country course located right beside Lake Te Anau. Take a break from the daily golf routine by visiting the Milford Sound, a true World Heritage destination - even stay the night on a boat cruise. Return north and play at either Lake Wanaka or Cromwell, both enjoyable country courses.

While all this golf is being playing, don't forget that Queenstown and Fiordland is home to many varied activities whether you want to do the Crazy Kiwi Adventures (jetboat, white water rafting, heli tour, bungy all in one day) or take a relaxing evening cruise on the TSS Earnslaw to Walter Peak Station for dinner.
Enquire here about this Holiday
top
Golfing Taupo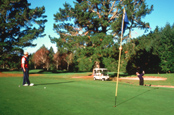 Play at the famous and challenging Peter Thompson re-designed Wairaki International located in the heart of Taupo. This course is the favourite of many golfers, both high and low handicappers.
Enquire here about this Holiday
top
Golfing Northland

Northland offers the serious (and not so serious) golfers a wide variety of courses to choose from. Play the internationally recognized Kauri Cliffs and Carrington Resort located in the far north (both with luxury accommodation on the course). The Bay of Islands region hosts the beautiful local courses of Kerikeri and Waitangi (fantastic views across the Bay).
A week's golfing holiday combined with Northland's historic culture is easy to organise.
Enquire here about this Holiday
top
North Island Golf Package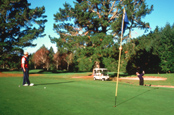 Here is your 2 week North Island Golfing Holiday. Play on the best local courses at a leisurely pace, taking time to enjoy all the other attractions New Zealand has to offer. This itinerary can be used by 2-10 persons. Package prices start from A$1,780 per person (including car hire, accommodation, 7 days golf, plus extras*).

click here for details.
Enquire here about this Holiday
top