Taste NZ
Maui Winery Havens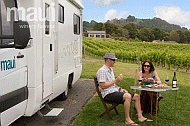 Stay overnight at four of New Zealand's best wineries in the comfort of a premium, self-contained Maui motorhome. Enjoy local wine and produce on-site, then wake up in an idyllic vineyard setting.

Each Maui Winery Haven booking includes a one-night stay on a secluded site, gourmet hamper for two and a premium bottle of local wine. Cost is A$120 per night.

Winery Haven partners are located the length of the country at Mercury Bay Estate (Coromandel), Linden Estate (Hawke's Bay), Coney Wines (Martinborough) and Carrick (Central Otago).
Enquire here about this Holiday
top
Classic New Zealand Wine Trail Package

A 7 Day independent self-drive trip from Wellington to Rotorua. Includes Walking Gourmet Tour in Wellington, Art Deco Car Tour in Napier, Odyssey Wine Tours Progressive Dinner in Napier. 6 nights accommodation, 5 days car hire, AND Sampler Pack of New Zealand Wine. Prices start from A$1,089pp twin share.

click here for details.
Enquire here about this Holiday
top
TOAST MARTINBOROUGH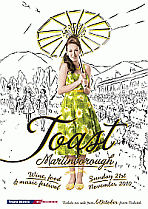 Be part of Toast Martinborough, New Zealand's premier wine, food and music festival on Sunday 17 November 2013. Sample, savour and celebrate at Toast Martinborough 2013 - bringing together the unbeatable combination of premium wines, outstanding food and great music, all within a charming wine village atmosphere.

Land Packages including 3 nights accommodation in Wellington, the Zest Walking Gourmet Tour of Wellington (with a special 'Celebration of Martinborough' wine tasting), return day train transport from Wellington, and Festival ticket start from A$499 per person twin share.

Packages are valid until 24 August. click here for details.
Enquire here about this Holiday
top
Wine Lovers Special

Wine Tastes - on all 14 day self-drive itineraries, receive a NZ$40 voucher for Wine Tastes Queenstown - the best way to sample the great Pinot's of the Central Otago Region.

This offer is valid through 30 June 2012.
Enquire here about this Holiday
top
Zest Food Tour

"A trip through tastes". Enjoy our favourite food places on this popular tour as we wander through the capital's best specialist food stores, including tasting coffee, chocolate, cheeses and regional produce, maybe even roasting your own coffee beans. Talk to owners, baristas, coffee roasters and chefs as we go where only Zest can. Take a seat in a top Wellington restaurant with your Zest guide and indulge in a light three course tasting lunch with matching New Zealand wines.
Enquire here about this Holiday
top
Central Otago

Appellation Central Wine Tours run half-day tours featuring the best of the Central Otago wineries, known for excellent Pinot Noir. Tours end with lunch and a chance to sample more of these great wines.
Enquire here about this Holiday
top
Hawke's Bay

Odyssey Tours run a unique guided Progressive Dinner Tour to 3 of the best Hawke's Bay wineries featuring wines with entrée, main and dessert courses.
Enquire here about this Holiday
top
Marlborough Wines

There are over 50 wineries in the Marlborough Region including world-renowned Cloudy Bay. There are also at least half-dozen restaurants attached to wineries, Herzog being amongst the best
Enquire here about this Holiday
top